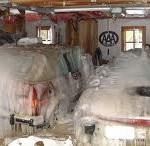 What's worse than a major home maintenance disaster? How about several major home maintenance disasters at once? For the quarter-million families who have their homes ruined and their lives disrupted each winter because of frozen water pipes, frigid nights can very quickly turn to ongoing, inconvenient, extremely expensive ordeals.
In cold and warmer climates alike, pipes freeze for a combination of three central reasons: quick drops in temperature, poor insulation, and thermostats set too low. Both plastic and copper pipes can burst when they freeze, and recovering from frozen pipes is not as simple as calling a plumber. A 1/8-inch crack in a pipe can spew up to 250 gallons of water a day, causing flooding, serious structural damage, and the immediate potential for mold.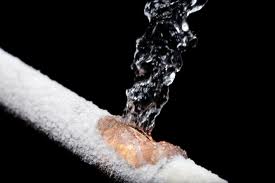 In the United States, frozen pipes cause a huge amount of damage each year; unlike natural disasters, this disaster is largely preventable. By taking a few simple precautions, you can help save yourself the mess, money, and aggravation frozen pipes cause.
When water freezes, it expands. That's why a can of soda explodes if it's put into a freezer to chill quickly and forgotten. When water freezes in a pipe, it expands the same way. If it expands enough, the pipe bursts, water escapes and serious damage results.

Why Pipes Burst
Surprisingly, ice forming in a pipe does not typically cause a break where the ice blockage occurs. It's not the radial expansion of ice against the wall of the pipe that causes the break. Rather, following a complete ice blockage in a pipe, continued freezing and expansion inside the pipe causes water pressure to increase downstream — between the ice blockage and a closed faucet at the end. It's this increase in water pressure that leads to pipe failure. Usually the pipe bursts where little or no ice has formed. Upstream from the ice blockage the water can always retreat back towards its source, so there is no pressure build-up to cause a break. Water has to freeze for ice blockages to occur. Pipes that are adequately protected along their entire length by placement within the building's insulation, insulation on the pipe itself, or heating, are safe.
If your water pipes have already burst, turn off the water at the main shutoff valve in the house; leave the water faucets turned on. Make sure everyone in your family knows where the water shutoff valve is and how to open and close it. Then call AFTERMATH Public Adjusters right away. They can get a certified water remediation contractor to your home right away to mitigate and stop further damages as well as clean up and dry out the mess. AFTERMATH will also contact your insurance company on your behalf to make sure a rapid, fair settlement to compensate you for your damages so you can quickly get your home back to it's pre loss condition.
Scott A. Richter
Aftermath Public Adjusters